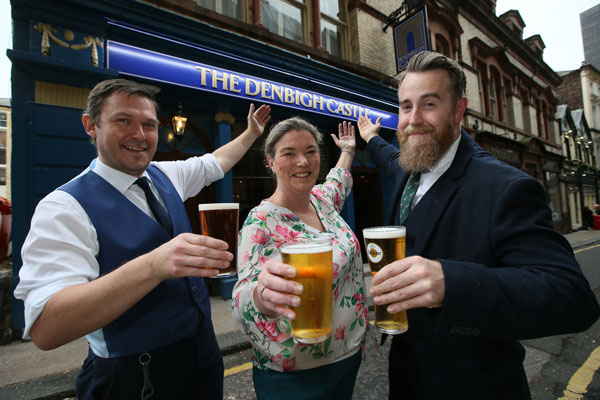 Thursday 9th July saw the welcome return of the The Denbigh Castle, with a special launch evening at the newly refurbished historic venue.
Located on the historic Hackins Hey thoroughfare that runs between Dale Street and Tithebarn Street, the original Denbigh Castle closed its doors in the 1970s before being reopened as Walters and then latterly being reinvented as Jupiters, which was forced to close its doors recently.
The Denbigh Castle is now under the ownership of 'pub Royalty', the highly regarded 'King and Queen' of Liverpool city centre's pub world, Dominic and Fiona Hornsby, who have been joined in the partnership of their new 'Small Hands' company by Ian Forster, who was assistant manager at Rigby's on Dale Street and also worked nearby at The Lion pub on Tithebarn Street before moving to Yorkshire to run his own pub.
Ian said: "I've returned home after 10 years because I miss this city. There's such a great vibe around the place and I'm delighted to be reunited with Fiona and Dom. Nobody knows the industry better here. Having our own company and pubs was something the three of us have talked about for years and then we all managed to reach the stage where we were all available to do it – and so we have."
The Small Hands trio have already successfully turned the Bridewell on Campbell Square into one of the city centre's most popular venues since taking on the venue last year and there can be doubt that the Denbigh Castle will follow suit.
This new version of the Denbigh Castle will have two bars, with Fiona explaining: "There will be a slightly different vibe downstairs, where it will be predominantly music, functions and parties." Ian added: "Ideally, we are hoping for a bierkeller kind of vibe downstairs with a flagged floor and bench seating, so it has the feeling of an ancient cellar."
Fiona, who is well-known in our city's pub world for her 13-year tenure at Rigby's,  said, "Having served our time for more than a decade in the industry on Dale Street, we really like this part of town, as well as the Liverpool ONE district. There Is a hive of activity from nearby shopping and the business district plus the pub itself is so old and was originally called The Denbigh Castle of course, so it it has been great to restore the name to our city centre."
Whilst The Denbigh Castle will not be serving food, it will feature televised sport and utilise its downstairs bars for functions and events, while Dominic maintains that customers can expect the same quality service and products that the Small Hands team provide at The Bridewell.
He says, "We are bringing our customers a mix of German lagers, cask and craft beers and an extensive spirit range, alongside our vegan wine list. And of course, they will receive the warmest of welcomes. We look forward to seeing you"
The Denbigh Castle
10 Hackins Hey, Liverpool L2 2AW