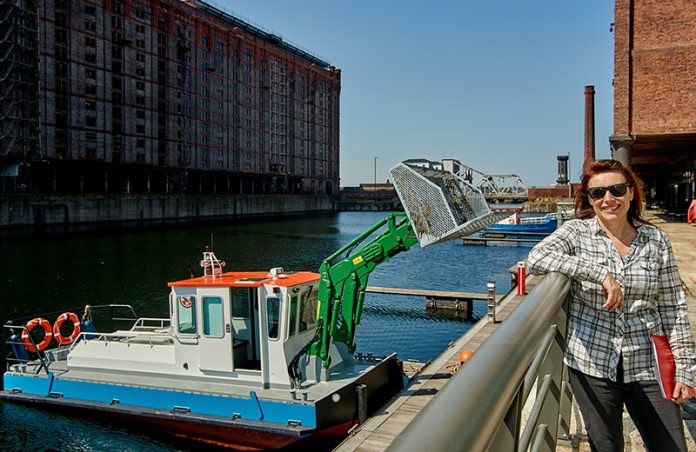 A pioneering Liverpool Marine & Engineering company acclaimed for designing and building innovative workboats and dredgers to clean up pollution from the world's waterways was able to celebrate the last of week of May after completing the construction of a new boat.
Water Witch, located on Lightbody Street and founded in1965, has built a new boat for the Cardiff Harbour Authority and launched it to coincide with the Volvo Ocean Race. As part of the race, the 'Turn The Tide on Plastic' team, supported by Cleanseas.org, are competing to promote the fight of plastics in our oceans.
Water Witch director Jackie Caddick explained:  "It's the second boat order we've had from the Cardiff Harbour Authority, helping Cardiff Harbour to clean up the Cardiff Barrage, which was originally a catalyst for regeneration in Cardiff Bay. The Barrage is fed by two rivers and since its completion all the debris, trash and plastics that would have normally found itself into the sea became trapped within the Cardiff Harbour by the Barrage, which occupies approximately 500 hectares of water space."
"Initially, Cardiff Harbour Authority tackled the problem by purchasing one of Water Witch's specialist, high capacity, surface dredgers, which made easy work of recovering the debris…anything from telegraph poles, lpg bottles, shopping trolleys and tyres, to plastic bottles and styrofoam food containers. During the initial 12 months, more than 892 tonnes of litter and debris were removed by the boat – an average of 10 skip loads a week."
"We were really excited by this latest project. The original vessel is now 18 years old, so Cardiff Harbour Authority decided in 2017 that it was time to replace her with a new Water Witch. Having taken nine months to build, and becoming the 76th Water Witch to be built by the company, she was delivered in time for the Volvo Ocean Race, the around the world race which began in Alicante last October and which, for the first time in the race's history, is visiting Cardiff from 26th May to the 10th June".
Added Jackie, "We had the opportunity of meeting the team 'Turn The Tide on Plastic' supported by Cleanseas.org, who were racing to promote the fight of plastics in our oceans. This is a campaign that thankfully has now entered the hearts and minds of the UK population."
More information about Water Witch Marine & Engineering Co. Ltd can be found at: www.waterwitch.com