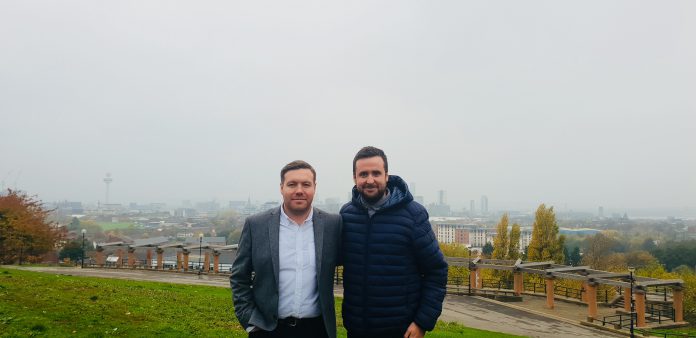 Each fortnight from this month, My Planet Liverpool will be interviewing up and coming businesses in the city who've helped spread the word about our brand and magazine which relies on great editorial, stunning photography and ultimately advertising to prosper! This week, we met up with those top guys at ScouseScene and Explore Liverpool, founded by Daniel Hogan and Steven Talbot.
What was your initial inspiration for Explore Liverpool / Scouse Scene?

Our initial inspiration simply came from this great city, Liverpool. Not just the place itself but everything it stands for. I mean who doesn't love their birthplace? We're lucky there's so much to love about Liverpool. There's so much to see and do.
We knew the city was fast becoming really popular as a tourist destination yet we were aware that there were many locals who had never really experienced their home town.
So you could say it all started as a 'passion project', we wanted others to share our passion for our great city. We also wanted to engage with like-minded people, to get information out to them about what was going on. So, we set up the social media account, ScouseScene, expecting it to mainly have an audience in and around Liverpool.
However, our audience quickly grew. We were delighted to find that there was constant interest from around the world. So, we decided to develop an extension of our original concept. Through ScouseScene we had already been promoting local businesses. So we decided to turn our passion into a business by developing a listing website and Explore Liverpool was born. The company was set up in January 2017, we started working with a great local web design company who helped bring our vision of the website to reality. During the build of the website we created social media channels for Explore Liverpool and began to build an audience for our new project, whilst the success of ScouseScene continued to grow.

What was your vision for both?

Our over-arching vision for ScouseScene was to showcase what Liverpool has to offer and to reach as wide and diverse an audience as possible. Let the world know about this wonderful place!
We wanted to promote local businesses, like the photographers and videographers we used. Of course, we wanted to promote and raise awareness of all the restaurants, pubs, clubs and venues around the city. Let people know what was going on! We wanted to be part of the buzz and it was also our vision to ensure that buzz was made accessible to visitors and Scousers alike. When we started Explore Liverpool it was with the vision of getting all this out to a wider audience. Of course it's a business so we have a vision to extend and develop the business. It's exciting to be reaching out and sharing all that our city has to offer with thousands of people around the world. Our vision is to reach even more people, to engage with more businesses.

How have you been able to grow both sites?

It has taken a lot of hard work and commitment on a daily basis (no rest days!) but we have built up and created two great platforms in quite a short period of time. We enjoy what we do, so that helps.
ScouseScene has evolved rapidly, taking on a life of its own. We had kept it, thinking it would mainly be for our local audience.
We have had such huge interest, with tens of thousands of followers. Photographers and videographers want us to showcase and promote their work. We share these, its great to see how proud we all are of our hometown.
Keeping the account updated and relevant is key. We have gone out there and actively engaged with businesses, owners, promoters, venues of all sorts, all with a view to supporting them and to helping them advertise themselves. So, we continue to expand on what Explore Liverpool has to offer. People can buy tickets for events and book venues and accommodation through the site now. They can access offers provided exclusively to us by businesses right across the tourism and entertainment industries. They can find out what's on and plan their upcoming trips. They can 'explore' what Liverpool has to offer and be inspired to visit.We have many more plans up our sleeve too…its all very positive!
What direction do you see both going in?

Forward at pace! The two parts of our business are racing ahead! With ScouseScene we see it staying pretty much as it is…keeping locals up to date with all that's going on in the city. We want to continue keeping in touch with our local followers and building our following too. It's growing daily so that shouldn't be a problem. Explore Liverpool will just keep going as it is too. However, we think there's lots we can do with the site. We'll continue to promote Liverpool in a positive light and basically showcase what the city has to offer whether that's attractions, food & drink, hotel stays, people, we also want to make people aware of the amazing events the city puts on each year!
We started all those years ago as a hobby and we haven't looked back and will continue to look forward. Along with other great local promotion companies based in Liverpool, anyone putting the time and effort into making people aware of our amazing city is someone inspirational. The future is bright because Liverpool just keeps on giving!
What are your aims for the business over the next six months?
We believe every local should spend at least a few days of the year being a tourist in their own city. Especially when it has as much to offer as Liverpool!
We aim to encourage this idea. Promoting our amazing city locally. We want to reach more locals and we aim to get them out and about in their home town. We want to spread the word on more attractions, more events and more venues so we aim to broaden our client base. To let even more people know about us. We want to extend the range of services we provide to both clients and to our site users. We aim to become a 'central hub' for anyone wanting to 'explore' the best city in the world…promoting it worldwide! It's our aim to ensure that Explore Liverpool, will continue and expand to further sell the businesses, history, culture, music of the city to as wide and diverse an audience as possible.