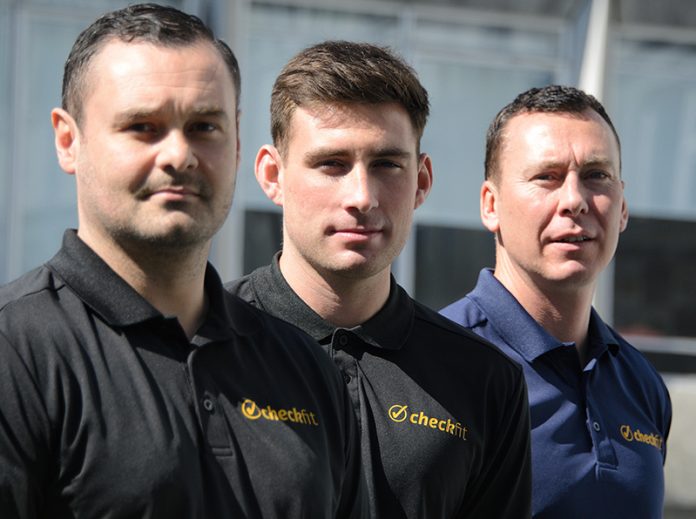 (L-R) Michael Holden, John and Stephen Edgerton
When Stephen Edgerton and Michael Holden came up with the idea of a "Trip Advisor for gyms" they were amazed to find that no one was doing it already.
Originally from Kirkby, Stephen found himself frustrated at not being able to easily find available sports clubs and facilities for his three young boys after he and his family moved to the South Liverpool area last year. This led to him and his childhood friend Michael to come up with a brilliant and simple concept – Checkfit.
Stephen and Michael spent two years developing the idea and just a few months after launch, Checkfit now promote more than 2,000 gyms, and groups across the city region, including community gyms, boxing gyms, children's clubs, football clubs, yoga, pilates and women's only groups – and have plans to expand into Manchester by this summer
EASY-TO-USE
Checkfit uses blogs, images, reviews, facilities, amenities and brief, detailed descriptions about the gyms, clubs or classes to give potential clients an overview before they try a new activity. Checkfit also offers an easy-to-use search facility for finding the right club or activity for you. The site is designed to take the fear out of fitness and to encourage everyone to participate in sport and wellness.
Visitors to the site can find all the necessary information, so they know just what to expect before enrolling on a new class, including details on required equipment, costs, what to wear, participatory level and associated benefits. The team is particularly keen to make sure parents benefit from using Checkfit.
"We don't charge any gym, club or service provider anything to be on the site – it is completely free," said Stephen. "This means the information we offer to users is totally impartial."
SPORTS-MAD
Stephen and Michael grew up together in Kirkby and are now parents themselves to similarly sports-mad children. Stephen has a son Rhys, aged 12, and 10-year old twins Harry and Jake. Michael, who has a daughter Erin, 12, and a 9 year-old son Jaden, said,
"We are both keen for our kids to keep fit and healthy. They play football, swim and go boxing but when Stephen moved to a new area of the city, we realised that finding a comprehensive directory of clubs and classes was really difficult. So we started talking about doing our own – it is such a straightforward idea that we couldn't believe no-one was doing it already."
Stephen added: "Within one day of searching we found more than 100 gyms and clubs in a small area of Liverpool that most people didn't know where there."
MAJOR INVESTMENT
The pair, who already have their own successful careers in marketing and law, have so far invested around £50,000 into the site, which has now been live for several months. They persuaded Stephen's cousin, John Edgerton, to change his plans to study sports therapy at university in oder to help manage the business full-time. Michael said:
"John has been integral to the rapid growth we have experienced in the months since our launch. He is the contact point for those businesses we promote and has also been actively involved in trying out and feeding back on many of the new or more obscure groups and activities that we promote."
SNOWBALL EFFECT
Of his appointment, John said:
"I don't have any regrets in changing course with my studies and coming to work for Checkfit. It has really opened my eyes to the breadth of fitness classes and activities available – even just locally – and has encouraged me to try out lots of new activities.
"The fitness and wellness sector in Liverpool is completely diverse and growing all the time – it literally doesn't stand still. There is a wealth of expertise, always something new to try your hand at – and it's great to then be able to talk others into trying something new and find what works for them." Stephen said, "We are now getting fantastic feedback from gyms and clubs and Checkfit it has really snowballed." Michael added: "It has been amazing so far and we aim to roll this out across the whole of the North West and eventually to the whole country."
If you are interested in promoting/advertising your gym, club, training or wellbeing facility/class or if you are someone who is looking to find a venue or class that is right for you – please visit: