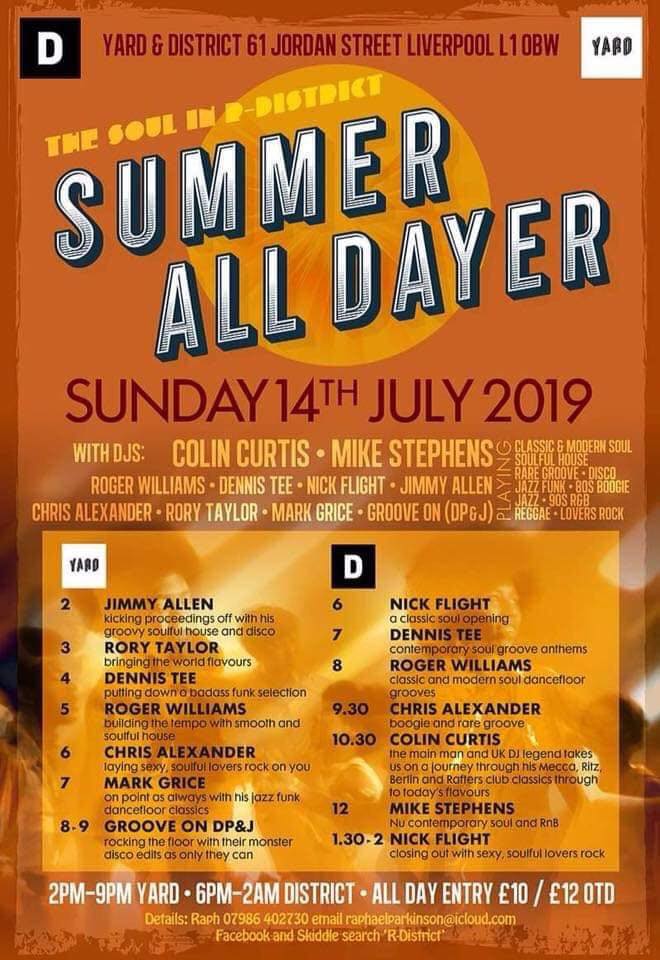 Raphael's Soul Collective brings the tunes to the District
When Raphael Parkinson got to the point where he felt that fellow lovers of soul music weren't getting their dose of 70s and 80s vibes, he didn't complain.
He got inspired. With support from his partner Laura Watts plus a collaboration that's become known as the R District soul collective, things began to take shape very quickly.
The collective of DJs Roger Williams, Dennis Tee and Nick Flight plus Baltic Triangle dude and music impresario Eric Gooden from District & Yard all got together to launch the project.
"Sadly since the riots in the 80s, my view," said Raphael "was that the soul scene had died in Liverpool and many of us, even though we've met some fantastic people and been to many brilliant events, have had to travel across the North West to get our fix of soul music.
Feedback from R District's first event last year told Raphael that things had changed for the good "thanks, I believe, to the brilliant collaboration, location, venue and of course, all the guests who came to throw some shapes and support us."
Since then Raphael and the team have decided to plan and host three events per year, which will include an annual all-dayer. The latest of those is this Sunday.
Commenting on the Collective's latest gig, The Soul in R District, Raphael enthused: "We're seriously looking forward to this Sunday July 14th and the very latest R District collaboration at which we will be featuring classic & modern soul, jazz funk, disco funk, soulful house , reggae & lovers rock plus everything in between!
"It's all about encouraging people to enjoy and dance to diverse music amongst a friendly, soulful crowd. We've managed to attract audiences from around the North West and further afield too for 12 hours of good quality music plus excellent soul food to accompany the tunes. District and Yard have that all round urban old school vibe run by the kind and charming Eric and his cool team. It's gonna be full of niceness!"
The event runs from 2pm til 2am with very special guest DJs including Colin Curtis, Mike Stephens, Jimmy Allen, Rory Taylor, Chris Alexander, Mark Grice and Groove On DP & J supporting the home team of Roger Williams, Dennis Tee and Nick Flight.