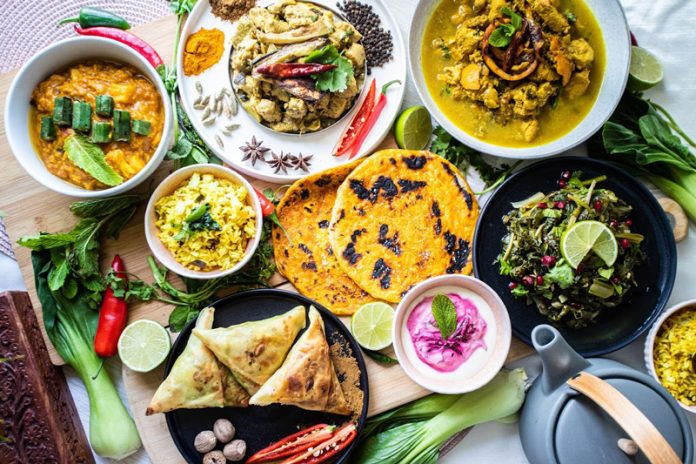 Samosas are very popular fried or baked pastries featuring a savoury filling, such as spiced potatoes, onions, peas, cheese, beef and other meats, or lentils, and here in Liverpool we are blessed to have two  ladies who have earned a deserved reputation for creating the most wonderful and delicious samosas to be enjoyed in our region.
Mother and daughter Kay and Sanya Wadud (pictured) are the two ladies in question and they founded and launched Perfect Samosa just over four years ago, quickly becoming one of the success stories of our local culinary industry, collecting a variety of awards along the way. On behalf of My Planet Liverpool readers, Helen Goodwin asked Sanya for her thoughts on the success that has come their way and how Perfect Samosa came into being.
Well Sanya, prior to lockdown you were selling your samosas at a phenomenal rate and have continued your success, creating a remarkable social media storm in doing so, throughout the lockdown period. Could you tell us a bit about Perfect Samosa and your journey so far?
My mother and I started Perfect Samosa just over four years ago. We were both at a point in our careers where we wanted a change and to do something that allowed us to be creative while working at what we love most – cooking! After much discussion, we decided to take the leap. I left my legal background and my mother left the police – and Perfect Samosa was born!
We started attending markets throughout the North West then slowly we started taking up places at food and drink festivals. The reception we received was overwhelming and that was the start of our journey. Prior to lockdown we attended between 6-8 events  a week, selling over 2,000 samosas! To date we have sold over half a million samosas and the business keeps going from strength to strength, which we are extremely grateful for. Social media has been absolutely fantastic for us over the last few months and taken our business to a whole new level, one that we didn't even know was possible!
Where do your fabulous flavour and food combinations come from?
Essentially they are a result of our own experiences and our cultures, which weave in and out of each other. Our Bangladeshi heritage, culture and family values, tied with our English upbringing, environment and schooling, along with the fact that we always liken our food to our personalities, are all traits that come together in helping us to create the special dishes that we offer our customers. We have a fabulous team of staff who help us provide the quantities needed but Kay is the master chef behind everything we create and she will always retain that unique fingerprint which is exclusive to our Perfect Samosa recipes.
What's your favourite item on the menu and why?
It has to be the Spiced Pumpkin, Sweet Potato & Nutmeg samosa, naturally sweet vegetables spiced in our unique garam masala blend – and it is vegan too. It is a recipe I have known from childhood and I am delighted to say that it has also won a variety of awards over the last four years and continues to be a firm favourite with our customers.
What's been the most challenging part of running your own business?
It's a double-edged sword really, because what happens to be the most challenging part is also undoubtedly the most rewarding part –  working together as mother and daughter. There are days when it's the sweetest feeling, building a legacy with the closest person to me, but there are also days that this can pose a problem, such as the tendency to set each other unrealistic expectations!
To be honest, the last 4 months have actually been the most challenging for us, as the majority of our sales comes through our attending events, which obviously had all stopped. We therefore needed to look at other avenues and change our strategic plan, which we did. We are delighted with the response we have received, especially with our special 'dine-in' packages.
What has been the highlight or highlights of your career to date?
We have been lucky enough to have won a few awards and to be recognised by an external body for your efforts always gives a fantastic feeling of achievement.  Another highlight, without a shadow of a doubt, has to be when we appeared in a Samsung advert! They actually approached us and asked us to feature in their advert promoting their latest smart watch! They found us when researching mother and daughter businesses on Instagram. The entire process was brilliant and the advert was broadcast around the world!
What are your future plans for Perfect Samosa?
We are just in the process of releasing a  new website, which will allow our lovely customers to order with ease from our online menu. In the long-term, can I say world domination? Haha! We are so incredibly proud of our products and our customers seem to love them. We would love our Samosa recipes to be enjoyed by as many people as possible and grow our follower base both nationally and internationally!
Email: info@perfectsamosa.co.uk