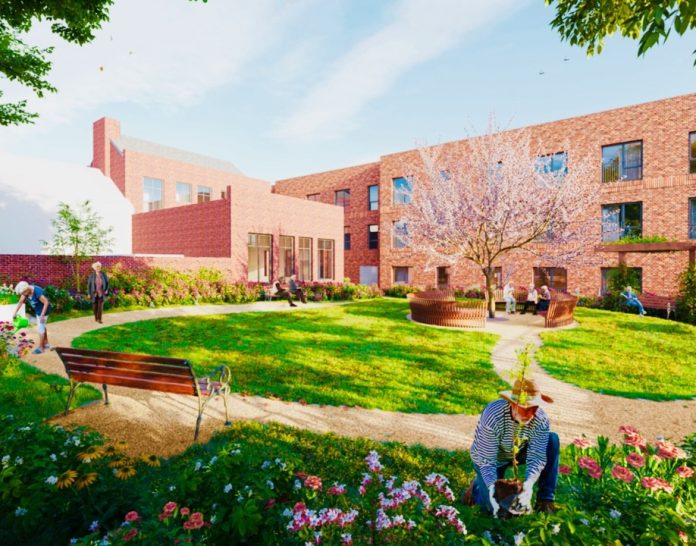 DEMENTIA DEVELOPMENT WITH A PERSONAL TOUCH PLANNED FOR RUNCORN
Halton based housing association and developer Signature Supported Housing have revealed their plans for a class leading 36-apartment supported living development, located alongside a community hub to bring the residents of Runcorn together.
Carnegie Court would see the existing Waterloo Centre being demolished, having been deemed dangerous by the local council, and the land turned into a specialist accommodation facility for people living with early onset of dementia.
The adjoining Grade II listed Carnegie Library would be sympathetically refurbished to create a community hub which would become home to a wide range of outreach services for the wider community, including community groups, library, employment services, NHS clinics, counselling, IT facilities, meeting rooms and workshops that would serve the community of Runcorn.
Owner and managing director of Signature Supported Housing, Rob Bryan, said: "Historically, people living with dementia have been housed in unsuitable accommodation, tucked away almost out of sight. Carnegie Court would place residents within the heart of the community, with access to local amenities as well as having the use of services at the community hub next door"
Asked why the development was so important to his company, Mr Bryan continued, "My mother passed away from dementia while in a general ward, which made a difficult experience that much harder for us as a family. Carnegie Court will provide affordable first-class accommodation and services for residents that are accessible for everyone through to end of life."
Signature Supported Housing have appointed architects, Pozzoni, to help deliver the project and Damian Utton, director and world-renowned specialist and author on designing for dementia said: "This proposed development will provide much needed purpose-built housing for people in Runcorn who are living with dementia, whilst also breathing new life into the splendid Grade II listed Carnegie Library building"
If given the green light, the development would deliver a number of employment opportunities, with tenders for the build being sought from Merseyside and Cheshire and the subsequent staffing coming from the local area.
The developer welcomes comments from the local community and are happy to address any concerns ahead of the council making their decision on the application on November 27th.
Comments can be made online until October 1st at: www.ssh.org.uk