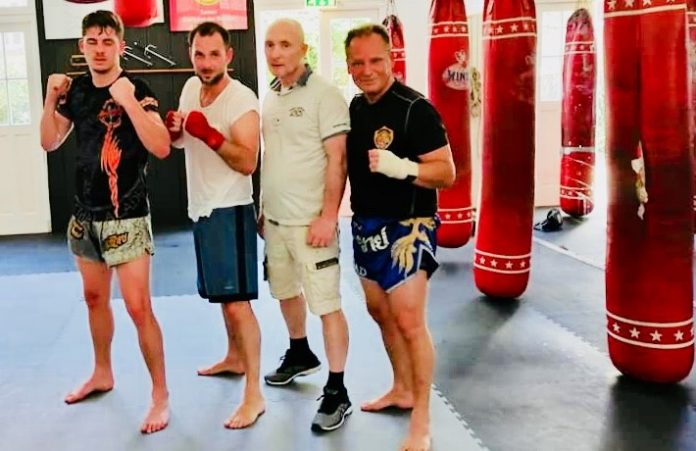 John Bullock is a man on a mission. The former Thai Boxing British Champion is still as competitive as ever, but now helping others perform at their best at work and in life via his company Pain Point Coach.
John helps executives, business owners and entrepreneurs complete their work in less time, with less stress and achieve more freedom.
John said: "In this world of scheduled meetings, targets, traffic jams, constant phone calls and emails it's no wonder many of us suffer burn out or just feel tired and drained. Many of us drink too much and exercise infrequently which adds to the every anxiety you carry."
John has constructed a unique programme using sport and experiential learning to help clients relate the experience to their business and general life.
The first thing we asked John had to be about sport given his background.
MPL: What does sport teach you in business? JB: Well here's just a few for starters. Managing your time more effectively, more energy, focus, team skills, planning, strategical and creative thinking, working towards dead lines, commitment, goal setting, leaving your comfort zone and entering the learning zone. Other productivity benefits may include more time to spend on income generating activity, bring projects in faster adding more flow to deal momentum and customer satisfaction.
John is now an Optimum Performance Leader in his new chosen field of business. MPL: How long have you been an OPL? Do you have any official qualifications?
JB: I've been training towards my certification as an Optimal Performance Leader since May 2019 and probably all my life without knowing it! I graduate this month as a Certified Optimal Performance Leader in October and am also a Certified Muay Thai coach with the Thai Educational Authorities in Bangkok.
MPL: What factors contributed to you becoming a champion in sport?
JB: I am reminded of the quote by Napoleon Hill the American author, "Failure cannot live with persistence". I think persistence is a key factor. It's not the only factor but it's a main contributory ingredient.
I don't think anyone steps into the ring for the first time and sees themselves as a champion. There are lots of small steps along the way…such as having the bottle to get into the ring, keeping your eyes wide open when someone throws a punch, successfully hitting a moving target, completing the distance, finding flow in training and finally winning your first bout. All are important steps on the journey to being a champion.
For me it also included seeing the current champion, as he was, and knowing I had the beating of him. I believed I could do it and visualised myself in the ring. I didn't think it would be easy I just knew I had the opportunity to succeed and I stepped through that door.
MPL: And how did you become a successful sports and now business trainer? Being good at sport doesn't mean you become a good trainer.
JB: I had great people around me and I trained with the best two World Champions in Ronnie Green and Russ Williams as well as training under the famous Grand Master Toddy in the late 70's and early 80's…not forgetting to mention my brother Jeff Bullock, a European Champion. I had great people to learn and train with. I went on to successfully train Alby Bimpson, Middle Weight British Champion as well as six junior British Champions.
Its true that experience helps you steer a steady course but I recognise all these people believed in what they could do. I was merely the sat nav providing directions. I've always said it's not the job of a cornerman to tell you how to fight, he is merely there to point things out to you that you may not have seen in the heat of the moment. So he needs to have a good ability to observe, correct and advise in split seconds and that same quality makes a good trainer and I believed I had that ability.
MPL: Does your OPL work apply to all companies and organisations? If so, how?
JB: Let's start from the premise that Optimal Performance Leadership is not therapy and I'm neither a guru or a coach so I cannot help people that require such. My unique programme uses experiential learning to create emotional experiences for the participants. It's the emotional experience that creates long lasting memories that through reflection and recovery can be related to your daily working lives. By way of example I have activities that increase focus, teamwork, develop strategic and creative thinking, helping you flow, how to reset focus, time management and dealing with stress to name a few outcomes. So yes I know all business leaders and corporate teams will complete the course with great knowledge impacting their lives for the better.
MPL: As an OPL, how do you encourage people to step out of their comfort zone given the stresses they will face?
JB: Well, we have the comfort zone, learning zone and panic zone and my programme teaches you to recognise when you're moving from one to the other. When you're at the coal face you don't always recognise the effects to your body though that's where we feel stress first. It's a big ask to request that you purposely leave your comfort zone and I recognise that. Tony Robbins says, "to change your emotion you need to change your motion" and it's so true.
The reality is we only ever learn anything when we take action and that's why Confucius said, "l hear I forget, I see I remember. I do I understand."
So I encourage people that want to learn, achieve, strive and feel fulfilled to leave their comfort zone on a regular basis.
MPL: Tell us more about 'Eu stress.'
JB: First of all, it's nothing to do with Brexit! Eu stress can be described as good stress. It recognises that to learn and to be productive we need enough stress to move us forward. This is not to be confused with persistent stress leading to bad decision making and burn out. That's why we teach awareness of stress and how it impacts the body so you recognise the signs in your body.
As an OPL, do you help people manage their stress as part of the change?
JB: Optimal Performance Leadership is about stress management leading to peak performance by recognising the effects to your body caused by stress and how to eradicate stress through recovery and reflection. For example many of us have a "to do list", but equally important is planning our reflection and recovery so we can perform better overall.
MPL: Explain more about sport, stress and the unconscious mind. In particular, share more knowledge of the latter.
JB: I think stress in the 21st Century is a major challenge because we live in a 24/7 world with constant communications and people don't know how to relax, driving us to distraction with a lack of focus.
Sadly many of us only have two gears in life, auto pilot and dead stop. Auto pilot is when you get to work and wondered how you got there. Dead stop occurs when you want do something badly but for some reason you stop yourself doing it. Why? Because we weren't prepared to leave our comfort zone. The unconscious mind does many things such as breathing but the unconscious incompetence mind is also intuitively wrong and holds you back. We can find a third gear which means actively taking action to the learning zone and teaching yourself to become an 'unconscious competent' person by getting into flow and being unconsciously prepared to enter the learning zone moving you forward.