Navigating your way around legal issues can be confusing but with the support of Morecrofts' specialist solicitors, a private and commercial solicitors with offices in Liverpool and Wirral, you can be sure that you won't put a foot wrong. Established in 1813, Morecrofts Solicitors is one of Liverpool's oldest and most respected Private and Commercial Law Firms offering services nationwide. The firm take great pride in their legal excellence and exceptional customer service, a formula that has resulted in clients returning time and time again. You will not be bombarded with buzzwords and complicated terminology, it's just not Morecrofts' thing! Instead they offer a broad range of services and flexible payment options designed to suit your needs. Whether you are an individual seeking legal advice on a personal matter or a business looking for support and guidance in the commercial world Morecrofts has the skills and experience to help you.
It has been a busy few months for the Morecrofts team, with a variety of projects being undertaken alongside their everyday support, advice and help that is given to, and on behalf of, their clients. Here are just some of the recent stories that the firm has to report on.
DOMESTIC ABUSE CONFERENCE WELCOMES RECORD NUMBER OF GUESTS
Andy Cooke, chief constable of Merseyside Police, was among the speakers at this year's Merseyside Domestic Abuse Conference event, organised by Morecrofts and held at The Suites Hotel, Knowsley. More than 100 delegates attended and Andy was joined by fellow police officer Sabi Kaur MBE, who gave an inspirational talk regarding her own experience of forced marriage and' honour' violence and how the force is tackling the problem.
Other speakers included Hollyoaks actress Harvey Virdi, whose character Misbah Maalik, is suffering abuse at the hands of her own son, and domestic abuse survivor Katie Walker, who now runs the charity Katie Cares and has received a Pride of Britain award for her efforts. Dr Emma Katz, a domestic abuse researcher at Liverpool Hope University, also addressed the conference to discuss the impacts of violence and abuse on children and mother-child relationships.
MORECROFTS PROMOTE PRIVATE CLIENT SPECIALIST MAUREEN HOLLOWAY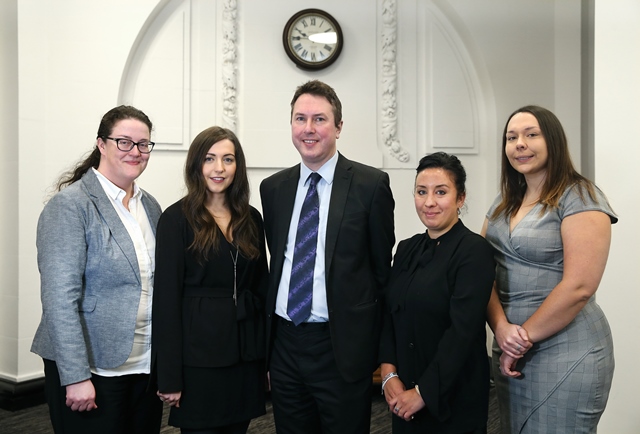 (L-R) Sarah-Jayne Maher, Sarah Day, Charles Millett, Angela Boscarino and Nicola Brand
Morecrofts has promoted private client lawyer Maureen Holloway to associate solicitor. Maureen leads a specialist team working on behalf of elderly and vulnerable clients on matters such as powers of attorney, deputyships, wills and probate. After joining Morecrofts as a legal clerk in 2005, Maureen, who is based primarily at the firm's Crosby office, qualified as a legal executive in 2011 and in 2014, at the age of 52, she qualified as a solicitor.
Alison Lobb, managing partner at Morecrofts Solicitors, said: "Maureen has established herself as a leading practitioner in her field and we have been delighted to support her continued rise through the firm. This new role is a deserved reward for her tireless commitment to delivering an outstanding level of service to our clients and leading the expansion of such a dedicated, talented team."
The firm has also awarded three new training contracts to Kate McEvoy, Alex Parkington and Cathryn McCorkindale, all three of whom are currently working within the firm's private client teams.
MORECROFTS SOLICITORS HAS SIGNIFICANTLY STRENGTHENED THEIR HR AND EMPLOYMENT LAW TEAM WITH THREE SENIOR APPOINTMENTS.
Highly experienced legal executive Nicola Brand, who has an extensive background of working on behalf of both employers and employees, has joined Morecrofts from Hillyer McKeown. Meanwhile, Angela Boscarino and Sarah-Jayne Maher have both arrived as employment law advisers after spending fourteen and nine years respectively at the Advice, Conciliation and Arbitration Service (ACAS).
Charles Millett, employment law partner at Morecrofts Solicitors, said: "Angela, Sarah-Jayne and Nicola have an incredible breadth of shared experience in all aspects of HR and employment law and their arrival further reinforces our talented team. The current employment law landscape can be very confusing for employers and employees alike, so it's important that all sides receive balanced, realistic and comprehensive advice. We have continued to expand the scope of our client work with businesses and individuals in recent years and our three new team members give us an exciting platform to take that growth to the next level."
A KNOCKOUT STAFF PERFORMANCE
A team from Morecrofts took part in a special 'It's a Knockout' in South Liverpool, raising more than £500 for charity. The event, which saw different businesses participate in several competitive activities involving obstacles ranging from giant inflatables, foam and cold water to bungees and even elephants, raised money for Clatterbridge Cancer Charity and KIND. The event was organised by Liverpool Law Society president Nina Ferris.
Morecrofts managing partner Alison Lobb said: "I just want to say a massive well done to our team of Sarah Day, Ami-lee Price, Carly Philp, Sophie Kearney, Lois Williams, Angela Boscarino, Kate Naylor and Hollie Randles. They were all fantastic and demonstrated the great team spirit which we have at Morecrofts." Team member Sophie Kearney added: "We had a brilliant day – it's always fun to get involved in activities outside the office with colleagues, and we met lots of nice people from other businesses. Thanks so much to everyone who sponsored us to raise money for two important charities. We can't wait for next year"!
FOR AVA FOUNDATION ANNOUNCED AS NEW PARTNER ORGANISATION
Morecrofts has chosen the For Ava Foundation as its partner organisation of the year. The For Ava Foundation supports children, young people and their families who have a cancer diagnosis or a condition that requires them to undergo a bone marrow or stem cell transplant at Liverpool's Alder Hey or the Royal Manchester Children's Hospital.
The organisation is named in honour of six-year-old Ava Stokes, who has twice survived cancer and was required to spend much of her treatment in isolation. That difficult experience has inspired her family to provide other families with 'Be There' boxes containing treats and practical items to help make their lives a little easier. Staff and partners at Morecrofts voted for the new partnership and it was announced at the firm's annual Ladies Evening, where the firm pledged to reach and exceed the £6,000 target required to support up to 60 families every year.
Ava's mother, Kelly Stokes, said: "We are thrilled to have been chosen as Morecrofts' charity of the year. We are excited to work with them to raise awareness and funds to allow us to support more children and young people with cancer and/or an illness that requires them to undergo a bone marrow transplant. Although we have only been established for just under a year, the work we are doing in providing 'Be There' boxes has had such a positive impact on those families and we are very much looking forward to building on this in the future, with help from the fantastic team at Morecrofts."
Over the past year, Morecrofts has been supporting the Merseyside Youth Association and raised in excess of £16,000 for the charity, which aims to make lasting positive changes to the lives of children and young adults in the region.
Managing partner Alison Lobb said: "Each year, we ask the entire team across our five offices to vote for their preferred organisation and this year the result was overwhelmingly in favour of the For Ava Foundation, a small organisation delivering invaluable support to families in our local community at a very difficult time. The new partnership received a warm reception among guests at our Ladies Evening and we managed to raise more than £300 on the night and we know that there's plenty more to come over the next 12 months."
MORECROFTS SOLICITORS
LIVERPOOL: Cotton Exchange, Old Hall Street, Liverpool L3 9LQ  T: 0151 236 8871
ALLERTON: 32 Allerton Road, Allerton, Liverpool, L18 1LN  T: 0151 909 2191
CROSBY: 2 Crown Buildings, Liverpool Road, Crosby, Liverpool L23 5SR  T: 0151 924 9234
WOOLTON: 7 Church Road, Woolton, Liverpool L25 5JE  T: 0151 428 1911
BIRKENHEAD: 30 Hamilton Square, Birkenhead, Wirral CH41 6AZ  T: 0151 666 2210
LINKEDIN: in/MorecroftsSolicitors
TWITTER: @Morecrofts
TWITTER: @MorecroftsHRB