BRINGING TOGETHER LOCAL ARTISTS AND MAKERS TO REIGNITE THE REGION'S CREATIVITY

MerseyMade is calling on artists, makers and the general public alike to support a creative revolution in the North West, following its recent opening in Liverpool city centre.
MerseyMade is a new and exciting creative venue located on Paradise Street, across the road from the rear of John Lewis, and sits in within the historic Chancery House building. The building was originally home to The Gordon Smith Institute of Seamen, opened in 1900, and was gifted to the seamen of Liverpool by Gordon's father Samuel, a prominent figure in the excellent work done by seamen among a variety of organisations in our city during that time, following the untimely passing of (James) Gordon who was his only son. More recently, the building was home to The Chancery Restaurant, which closed in early 2019.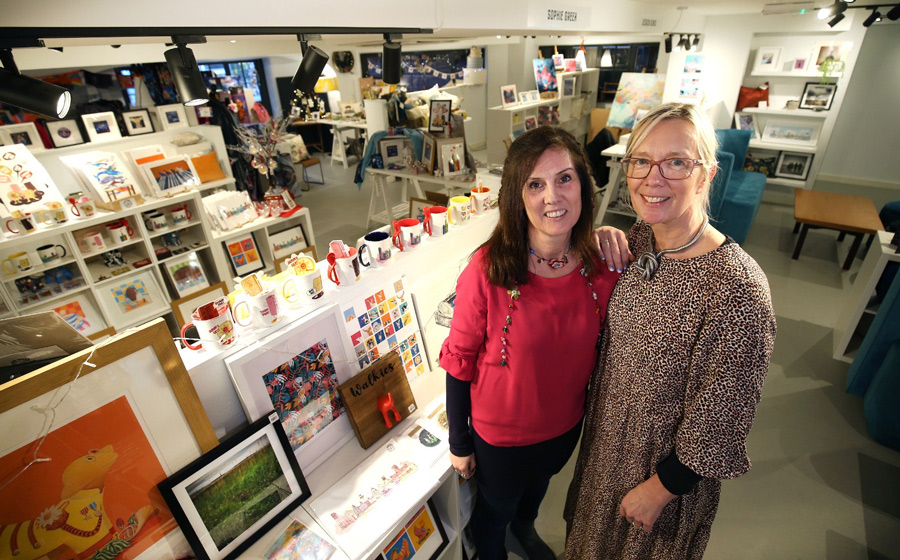 Now, the owner and founder of MerseyMade, Vicky Gawith, has transformed the defunct restaurant into 4,295 square feet of creative space that spans two floors and enables visitors to have the opportunity to meet in person the creators of a wide variety of paintings, illustrations and textiles. Vicky's newly established venture houses 10 open-plan studios on the top floor for residents to practice their craft and sell their products, while the ground floor houses a cafe and an on-site shop that provides an enticing range of artwork, jewellery and ceramics, locally made preserves, quality gins and so much more!
With local businesses in mind, MerseyMade also has an events room with a capacity for 20 guests for meetings, 24 guests for workshops and up to 40 persons for private functions. The room is fitted with audio-visual facilities, and can double up as an area for people to take part in workshops and courses, so enabling them to create things themselves. There is is also a fully licensed bar, making it an ideal venue for hosting private functions and MerseyMade will also host its own ticketed events throughout the year, combining artistry with interactive activities, food and drink.
Alongside Vicky, MerseyMade has an all-female team at the helm, which is led by Creative and Retail Manager Jenny Dunlop and includes Cafe Manager and Chef Yasmin Limbert, who is a former Great British Bake-Off quarter finalist. Jenny said: "Our open-plan studios upstairs, already have some impressive residents in place, from artists and illustrators to textile experts. We are always happy to meet new creatives interested in joining the MerseyMade family. Our shop is showcasing over 80 creatives from across the Merseyside region, constantly adding new and exciting items every week. Everything that we sell is sourced locally, within a 50-mile radius of our Liverpool home."
Visitors to the centre are also able to take advantage of the venue's ground floor 'The Gordon Smith Cafe', which offers a delicious range of hot and cold food and drinks – do not miss the opportunity to enjoy the scrumptious hot, and very fresh, scones, accompanied by clotted cream and strawberry jam. The cafe offers a menu that includes traditional Scouse and a vegan alternative, homemade fish-finger sandwiches, a variety of popular toasties, as well as loaded fries and halloumi fries. It also offers an assortment of freshly made cakes, available daily, with gluten free and vegan options.
Vicky said: "Our Gordon Smith cafe is a lovely relaxed space in its own right and offers a menu of locally sourced produce and homemade cakes created by Yasmin. The idea behind our food and drinks offering is to provide a place for shoppers, tourists and local people to escape the crowds of the city and sit back and enjoy delicious food and coffee within a unique, art-filled environment. In a bid to support local and independent suppliers, the cafe has partnered with the likes of Neighbourhood Coffee Roasters, Liverpool Tea, Black Lodge Brewery, Love Lane, The Three Graces' Gin and The Three Graces Rum, along with Turncoat Gin and Vodka."
Yasmin said, "I am incredibly proud to be a part of the team at MerseyMade, working alongside some of the city's most creative people to build something that the North West hasn't seen before. It was important that our food menu reflected the artistic nature of MerseyMade, which is why I've really put my heart into producing dishes that are full of flavour at a reasonable price point."
Vicky added, "We are big believers in buying locally and supporting regional businesses and we hope that the MerseyMade concept will be a catalyst for creativity, encouraging people to go back to traditional means of buying and selling handmade goods. With commercially driven conglomerates changing the way that consumers behave, it's refreshing to be able to work with individuals who care about their customers and strive for that personal interaction that makes the overall shopping experience much more bespoke and memorable.
"The idea behind MerseyMade was always to connect artists with both the general public and businesses as part of a modern, innovative concept that we hope will reignite our region's love for crafts and creativity. With everything so accessible online, it's easy to lose sight of the creatives behind the products and as part of this new venture we will be putting local people at the forefront and at the heart of what we do.
"Whether people in the region are after a work of art or a specially commissioned piece, they will find something in here to suit their needs. Our space is beautifully designed and offers an alternative to the high street and with the addition of our on-site café, MerseyMade is a fantastic place to visit for anyone visiting from the North West and beyond.
"More than anything, at MerseyMade we hope to offer buyers peace of mind in the knowledge that they are directly supporting the livelihood of some of our region's most talented individuals."
MERSEYMADE
98 Paradise Street, Liverpool L1 3HJ
Tel: 0151 271 7025