Without innovation there is no progress. So, how do we encourage innovation? How do we create a social, economic and political system in Liverpool City Region that champions bold thinking?
My Planet Liverpool spoke with Phil Birss, Owner and Managing Director of Elephant, one our region's top creative agencies, and asked him for his thoughts on the above. Phil kindly supplied the following:
Liverpool is a city region rich in cultural heritage and famed for its music, sports, fashion and the arts, but to thrive in an ever-competitive global landscape new innovation is essential. Bold thinking leads to new innovations and new innovations lead to new products and services. New products and services lead to value creation within a local ecosystem in the form of employment and tax contributions. New innovation can also bring investment, recognition and acclaim into the region as a by-product of success.
Defined as 'the introduction of something new', innovation typically requires commercialisation to enable meaningful value creation. Whilst acknowledging the negative impacts of some new innovations, our recent history is littered with innovations that have profoundly affected the way we live our lives. Since the invention of the wheel, the modern world has seen new innovations literally rolling off the production line. From the printing press to electricity, from penicillin to the semiconductor, and from the automobile to the internet, our lives today are richer, safer and happier due to a visionary few who have pushed the boundaries of conventional thinking.
Liverpool's recent renaissance as a centre of innovation is much overdue. The early pioneers of our region led the world in terms of new innovations. The overhead railway, the tram system, ambulances and the hovercraft are some well-known technological innovations born out of the city region. But innovation stretches much further than just new technologies. Among its many firsts, Liverpool introduced the first public library (The Lyceum) in 1802, Kitty Wilkinson founded the world's first public baths and washhouses on Frederick Street in 1842 and the Liverpool School of Tropical Medicine (LSTM), founded in 1898, was the first institution in the world dedicated to research and teaching in the field of tropical medicine.
In a recent report by Tech Nation, Liverpool was listed as one of the UK's leading players in the Tech & Digital economy, citing our expertise in the gaming and virtual reality sectors as key drivers of growth. Jazz Hanley, Partnerships Lead at Tech Nation, spoke of his huge admiration for Liverpool and its recent development in the technology space, in particular the Baltic Triangle area. "The Baltic is one of the finest transformation projects in the UK." Jazz explains. "The challenge now is how do we support the development of these areas and ensure their long-term success."
Much of the credit for the success of the Baltic Triangle area must go to Mark Lawler, Managing Director at Baltic Creative CIC, and his team. Their visionary thinking, dedication and can-do attitude has fostered a spirit of collaboration that is an essential ingredient in helping to build a thriving digital, creative and technology community.
The technology community in Liverpool city region seems primed to explode onto the global stage, but whilst optimism remains high there is cause for caution amongst a backdrop of the wider political and economic uncertainty of the region and the UK in general. More action is required in order to preserve the great work already being done, and the leaders of our digital, creative and technology communities seem to agree.
Paul Corcoran, Managing Director of creative agency Agent Marketing and Agent Academy CIC, believes that closing the skills gap is a key challenge for the city region. Paul launched Agent Academy in 2014 in reaction "to a clear and obvious need for an experiential programme which could immerse and educate the digital leaders of tomorrow."
Ian Finch, Chief Executive of digital experience agency Mando and Chairman of BIMA North West, believes "the digital and creative scene has made huge strides in the last 20 years, but the challenge moving forward is encouraging more ambitious thinking from our sector." Reflecting on the qualities of the region, Ian noted that "The people of Liverpool are its biggest asset. They are straight-talking, genuine and keen to collaborate."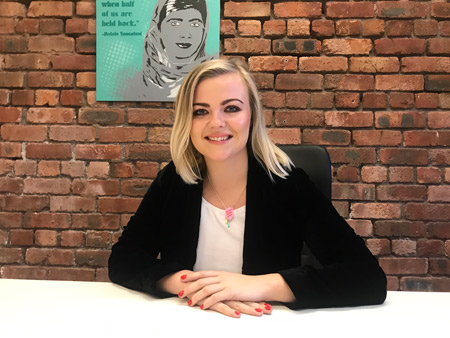 Chelsea Slater, Co-founder of Innovate Her, a social enterprise focused on narrowing the gender gap in the technology sector, speaks widely on the challenges facing the region, "Diversity matters because different perspectives, experiences and backgrounds create wonderful products and services that cater for everyone." Talking about the wider challenges of the sector, Chelsea said, "The UK faces a crisis; we have a huge digital skills gap! By inspiring and giving confidence to women, we open up the gates to more talent, which will fuel our economy and create better opportunities for everyone."
Dr Paul Redmond, Director of Student Experience and Enhancement at the University of Liverpool, believes the student body of Liverpool City Region are an untapped pool of potential. Paul shared his thoughts on the city region, "We need a more joined up approach to innovation. We need to excite our students about the possibilities available and encourage them to stay in the city after graduating." Paul believes we need region-wide steering group focused on developing a more robust culture of innovation.
With the technology scene in Liverpool City Region in full bloom recognition should be given to just some of the shining lights of the sector. Draw and Code, an immersive technology company, has been commissioned by John Lewis, Hyundai and Red Bull to deliver innovative AR/VR campaigns. Evoke, a digital display company based on the Wirral, works with global giants such as Google, McDonalds and Tesco on interactive experiences, video walls and digital signage. Form, a growth consultancy, delivers training and strategic growth planning for digital, creative and technology businesses. Angel Solutions, an education technology company, provides software solutions for 17,000 schools across the UK. vTime is a social experience company that is building a virtual reality social media platform which is set to revolutionise the online experience. Then there is Living Lens, a cutting-edge video technology company that analyses video content via speech, actions and sentiment, translating human behaviour into insights. The company has recently been acquired by Medallia for $26m.
Connectivity, infrastructure, access to markets, business support and the development of skills and talents are all key ingredients in helping to encourage the growth of the digital, creative and technology community in Liverpool. If sustainability stems from collaboration and a shared vision of success, then maybe Liverpool city region is the perfect cauldron where innovation can be brought to boil.
Elephant is based at The Cotton Exchange, Old Hall Street and Phil can be contacted at: philbirss@elephantdigital.co.uk