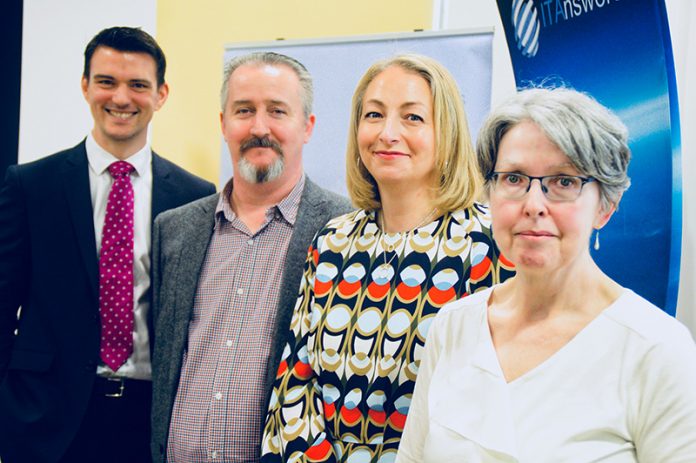 Pictures courtesy: Tony McDonough – Liverpool Business News
BWM is a leading, independent chartered accountancy practice in Liverpool with a heritage that can be traced back to 1926. The firm provides a wide range of accountancy and business support services to organisations and individuals across the North West; and their client base ranges from individuals and families to large companies and charities.
On Tuesday 24 April, BWM, in association with Knights Solicitors, Griffiths & Armour and Cloud experts IT Answers UK Ltd (Skyline), held the latest of their informative Charity Seminars, on this occasion at the popular Ziferblat venue, which is located at 4, St. Paul's Square.
BWM had invited an excellent line-up of speakers to provide updates and share their expert opinions on some of the key topical issues: General Data Protection Regulation (GDPR), which comes into force on 25th May; The Benefits of Cloud Computing and a round-up of legal developments in the voluntary sector.
After a welcoming buffet breakfast and hot drinks, the morning's seminar was opened by Peter Taaffe, Managing Partner, BWM, who gave an introduction to the overarching themes of governance, security and external scrutiny that linked all of the talks that were given during the seminar. Peter is a highly regarded speaker, with a blend of skills from his FCA & CTA qualifications and practice experience enabling him to provide clients with a broad perspective on financial matters and practical advice. His focus is on improved business performance and enhanced value for clients, working with a variety of SME and charity projects. He has been a member of the Committee of the Institute of Chartered Accountants in England & Wales Charity and Voluntary Community and is also currently a trustee at Open Awards.
Peter provided a round-up of the latest messages and best practice guidance on finance matters from the Charity Commission, HMRC and other regulatory bodies with specific regard to the charity sector. He also raised a laugh when quoting the words "To err is human but to really foul things up you need a computer", a phrase which all the attendees seemed to be able to identify with.
Peter's colleague, Lesley Malkin, Audit Partner at BWM, was next to talk. Lesley has been a Partner at the firm since 2011, following over 10 years' experience as an audit manager overseeing management of audit assignments for many business and charity clients and she gave the attendees a brief on how trustees of charities should compile a good, informative draft for the Year End Trustees' Annual Report (TAR) prior to meeting with the accountant/auditor, stressing how important it was to keep and monitor records throughout the year.
Troy Johnson, Development Director, Griffiths & Armour, was next to take the stand. Troy regularly presents to the 3rd sector about the latest trends in risk and insurance, helping organisations review their operations and manage their exposures. With GDPR fast approaching, he reminded us of the critical actions every organisation will need to take ahead of the deadline and explained about digital risks and the benefits of having Cyber Insurance in place, pointing out an alarming statistic that shows 1-in-4 businesses are subject to data breaches, while getting a date with someone who is a millionaire was a 1-in-220 chance and being struck by lightning was a 1-in-966,000 chance! As the audience digested these figures, Troy emphasised the importance of maintaining strict diligence on all data held by charities and indeed by any type of business.
Continuing on from Troy's talk, Tommy Davies, Business Development Director with 'The Cloud' experts IT Answers UK Ltd, gave a brief history of the Cloud, how it works and how it can benefit a charity. Tommy has over 20 years' experience working in the IT Sector and has been instrumental in the development of Cloud based IT products dating back 10 years. More recently he has worked closely with charities of various sizes to help them transition into the Cloud for all of their IT requirements, using unique and innovative products. Tommy also has significant experience in the design and development of Cloud-based software used across many business sectors and charities in particular. He told the delegates of how "The Cloud" is a concept that is often touted and heard more and more in terms of IT and can range from Cloud-based accountancy to Cloud-based office software. Tommy also explained in basic terms what it means for charities and the benefits of using the Cloud to handle an organisation's traditional IT support for a more cost effective, secure and reliable infrastructure.
The final talk of the morning was given by Jenny Hampson, Partner at Knights Professional Services Ltd. With over 15 years' experience, Jenny is able to advise charities on establishing, incorporating and registering themselves, liaising with the Charity Commission, reviewing and updating governance documents, assisting with transactional and day-to-day issues, helping with disputes concerning charitable legacies and providing training for charity trustees, staff and volunteers. An entertaining speaker, she advised on the importance of safeguarding the data held by charity organisations and, with charities rarely out of the spotlight these days, the maintaining of due diligence, whilst stressing how essential it was to report any serious incidents of data breaches. She also talked about The Law Commission's report and what the future might hold in terms of charity regulation. Jenny also looked at the recent data-breach scandals involving Oxfam and the President's Club fund-raising Dinner that caused so much outrage when details of what took place during the event were reported on by the national television channels and press. She also put it out to the audience as to whether lessons had been learnt or acted upon following these scandals.
As with previous BWM Charity Seminars, the event was both informative and entertaining for the attendees, whilst affording some serious and pragmatic advice to those working within the charity industry.
For more information please contact:
Vicki Harper, Client Services Director
at 
Chartered Accountants
6th Floor
Castle Chambers
43 Castle Street
Liverpool L2 9SH
t: 0151 236 1494 f: 0151 236 1095
e: enquiries@bwm.co.uk
www.bwm.co.uk